Welcome to the rules for Warzone III – Can you recover the most money and get it out of the warzone before the buzzer runs out? Warzone will put that to the test.
The event is based around 4 insertions, where you are dropped into the zone and have only hours to gather up the most cash out of all the squads in the field. You can hide the money, call in an exfil where your cash is immediately counted and considered safe or you can risk carrying your haul throughout the entire round. Only what you have exfil'd at the end of the round is counted towards your bank – and having the most in the bank at the end of the insertion will identify the winner of that insertion.
Timings:
22 September 2023:
1900-2200 – Registration Open
Chronograph will not be open during this time
23/24 September 2023:
Registration:
08:00-10:00
Chrono open during the registration period. Failure to chrono will result in your squad waiting until after game start to be chronographed.
Please come up to chrono as a squad (5 players)
limit of 2 weapon platforms per player.
Game brief: 11:00 – Please be at the stage for 10:45
Deployment for Insertion 1: 11:45
Insertion 1: 12:00 to 17:00 (5 hrs)
Deployment for insertion 2: 17:45
Insertion 2: 18:00 to 22:00 (4 hours)
Deployment for insertion 3: 22:45
Insertion 3: 23:00 to Sunday 24 Sept 03:00 (4 hours)
Deployment for insertion 4: Sunday 24 Sept 03:45
Insertion 4: Sunday 24 Sept 04:00-09:00 (5 hours)
Clothing:
There are no colour restrictions other than Neon Green, safety yellow/Orange and Red – all other colours or mix of camo is permitted – don't ask what you can and cannot wear – if it has Neon Green, safety yellow/Orange or Red on it, we would prefer you didn't wear it…period.

Helmets/Load bearing equipment are not restricted, any colour/camos can be worn by any
faction – other than primarily red/orange or fluorescent colours (not authorized at any time) – see restricted colours below
Restricted event colours:
YOU MAY NOT WEAR RED, OR FLUORESCENT CLOTHING OR GEAR (defined as: Neon Green, safety yellow/Orange and Red) – these colors are restricted to event staff and photographers.
Medic Rules (All Squads):
TQs will be required – we will not be supplying them at this event as several events already provide them. If you require a TQ, please visit an onsite vendor.

We will be utilizing the buddy healing system at this event. We ask that participants bring a simulated tourniquet to the event, to be used by someone on their squad to revive them once they are hit.

When a player is hit, they are to call for a medic. They can take a few steps out of the way once they have identified themselves as hit with a dead rag/dead light in order to clear the line of fire. At no time can a dead player speak to the location of live players – Dead Players do not talk – feel free to play up the situation, role playing is always a fun part of Blackcell events.
When reviving a downed player, there is a 60 second heal timer. The person reviving the downed player will have to place 1 hand on the player and count to 60. They can use 1 hand to use a sidearm to defend themselves and the downed player. The downed player may not use any weapon at all. If shot while attempting to revive the player, the count ends and both players are down – until someone else tries to heal them.

if you are downed and waiting for a person to heal you – you have a 5 minute bleed out period. during that time, all items you are carrying must be dropped – if they are picked up by another player (friendly or opposition) you are considered dead and must return to the staging areas.
Staging Areas:
All players will be sharing Staging Areas – They are designated as non-safe respawn areas – this allows your squad to regroup before re-entering the field to continue play. Players once eliminated will move to a staging area of their choice and will serve out a 10 minute death penalty – once their 10 minutes is over they can re-insert into the field. Players leaving the staging areas are not considered live until they pass the safety zone that will be identified. Once a player leaves this area they are considered live. These are not "CPs" and gear should not be left at the staging areas. They are marked on the map below.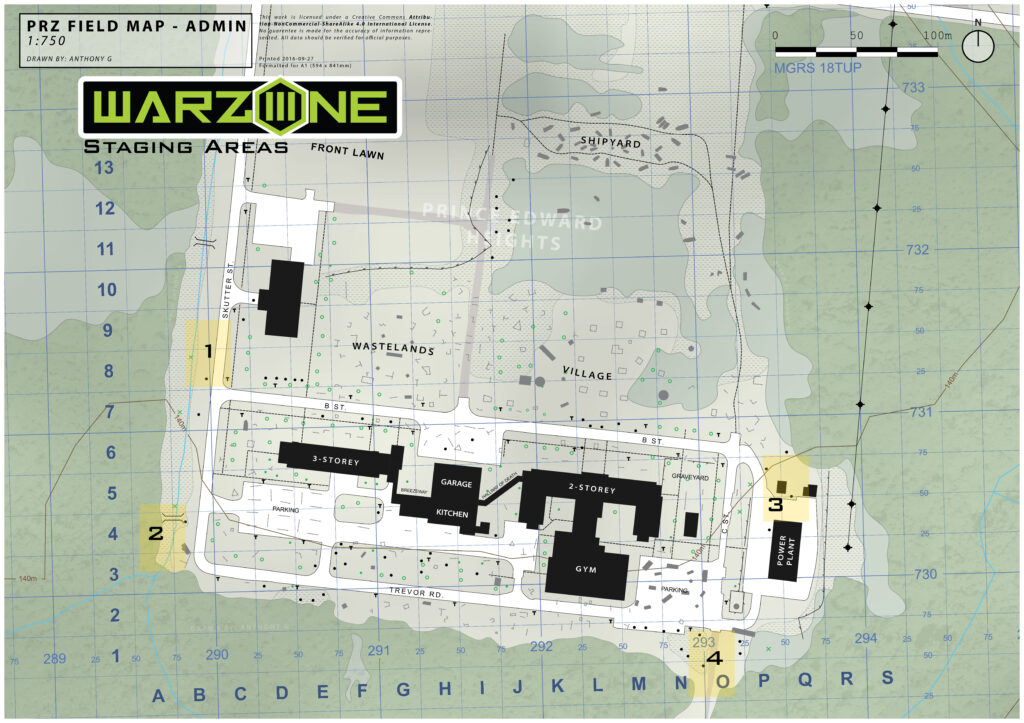 Start Locations:
All squads will start each insertion in a position of their choice – they cannot share a squad start location – these are only for 5 players at a time and will be marked with a small blue flag. Once the round starts, players will be able to move from these positions and start play.
Their locations are on the map below.
Extraction Zones:
Marked with white flags, there are 6 extraction zones on the field of play. At certain intervals players will see game control members move to these extraction zones (up to 3 active at any time) and they can initiate an extraction. There may be an audible sound, a flare or a blinking light indicating that an extraction is taking place – these extractions are not complete until the game control member is given the amount that you are depositing by the squad making the deposit. You will be required to give the following information:
Name of Squad – Amount depositing – Special gear that you have located and are extracting (value may vary).
Squads have 1 minute (60 seconds) to provide those details and their cache to the GC member, who will radio in the information for it to be counted.
Extraction zones are live areas of play – until the information is sent in by Game Control – the amount is not secured and the depositing team can be contested.

If an extraction is contested – Game Control will move away from the zone and will wait for the fights to end before resuming extraction activities – they will advise verbally if the extraction is live or not.

Their Locations are on the map below.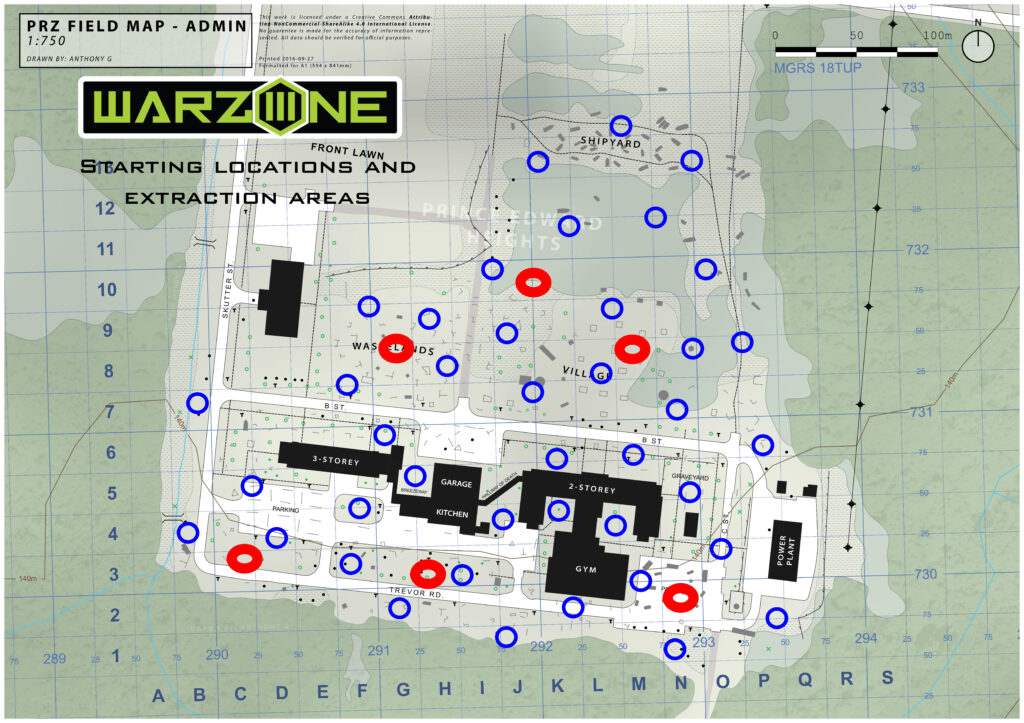 Assimilation/joining up:
Squads will be provided with 10 of their faction specific patches. In order to assimilate or join up with another squad you are to use 5 of these patches. The catch is – you can only do it once throughout the 4 insertions. Once you give you patch away, you loose it to that squad – so choose wisely. When a squad joins another squad, they wear the other factions colours and remove theirs – until the end of the insertion. Squads that have been assimilated will not be part of the winning squad at the end of the insertion – only the original 5 of the squad will be rewarded. Choose your affiliations and friends wisely.
At the end of the insertion, all assimilated squads remove their "assimilated colours" and put theirs back on – but they keep the patch.
In game vehicles:
There are no faction specific vehicles in play, and at times there may be the Blackcell Promotions staff vehicle moving around the field – it will have it's 4 ways on and will not be armed. The drivers are not participating in the event – they are simply staff – They may be carrying passengers – wait until they are 10 paces from the vehicle before engaging – they cannot use the vehicle as cover. If there is a requirement to have the vehicle stopped as part of a mission – game control will be present and will provide the method in which the vehicle is to be stopped.
On Field Props:
There will be several laptops/cell phones and other tech in the field that can be extracted for their value.
General Gameplay rules:
Who Can Play: The minimum age to play is 16 years old. All players under the age of
18 MUST have a waiver signed and should be accompanied by someone on the field at
all times.

Waiver: if you have participated in an event this season already and have a waiver on file, you
are good to go, if you have not – they are available here:
https://www.przpaintball.ca/waiver.html?fbclid=IwAR1hppmMO09pph8d2yPi1Aj_g-myV3Bdg8A
wggj2HQ-b-x4Iih9og676CaU

Safety: We consider safety the #1 priority. Airsoft & Milsim is designed for the mature
and level-headed player. Common sense and the right, fair-play, honest attitude are a
must at our events.

We require everyone when not on the playing field to have their magazine out and
safety on! All pistols must be holstered.

All players are required to attend the safety briefing prior to the start of the game.

While we encourage players to wear face protection, it is not required. Face protection
will however allow players to enjoy the fast pace and often close-quarters nature of the
events without fear of damage to their face and teeth.

We require that all players wear ASTM certified eye protection. ANSI Z87.1 and/or
ASTM F- 1776-99a rated (or greater) ballistic eye protection will also be accepted. We
do recommend full seal eye protection due to the nature of the environment we play in,
but this is not an enforced requirement at this time.

There will be a Mandatory Ejection of any players lifting or removing eye protection
while in "goggle on" areas (Playing Field, Chronograph Area, and Target Area)

Cease Fire: Players or staff should call "NO DUFF" if you or another player is injured or
loses their eye protection and requires immediate Admin/Medical attention. You will
need to both vocally and via Comms (if possible) make the "NO DUFF" call with
approximate location and details of the incident – Event staff will investigate and then
give the all clear when the NO DUFF has been lifted. Magazines should be removed
and players will not be allowed to move around during a NO DUFF unless instructed to
do so by Event Staff or if assisting with injured personnel. EVENT STAFF ARE THE
ONLY ONES THAT ARE TO CONTACT LOCAL 911 SERVICES. Situations requiring a NO DUFF call must be serious as they result in event stoppage.

Minimum Mandatory Equipment: Gun, Eye Protection, red dead rag, red dead light and
camouflage or uniform to match team colors.

YOU MAY NOT WEAR RED, OR FLUORESCENT CLOTHING OR GEAR – these
colors are restricted to event staff and photographers.

No verbal abuse, name-calling, profanity, etc. will be tolerated.
No stealing, vandalizing, or fighting. (You will be turned over to the police)
No Drugs or Alcohol while the event is taking place
No Barricading doors, windows or stairwells and no remodeling of the fields of play.
No riot shields
Class 1 IR Lasers will be allowed, once they have been confirmed with game staff and
are marked accordingly. All other lasers are prohibited.

Flashlights are to not have a red filter – red lights designate a dead player and as such
if a red light is used, it signifies that you are eliminated (RED = DEAD). Deadlights are
not required to flash however it is suggested that a flashing red light be used as a
deadlight. Regardless of flashing or not, RED light designates an eliminated player.

Who's In Charge: Game Staff and Referees have the final say. No Arguing with Staff.

Accepted team colors: These are event dependent – and are all identified prior to the
event. At no time should a player intentionally wear colors that are for the opposite team
– you will be warned and if caught again will be ejected from the event.
Your vest/pouches/backpack can be whatever color you wish.
You must follow our rules for camo/team colors or you will not be permitted to play.

Weapon Systems and FPS Rules: There will be 4 classes of weapons allowed at our
events – the abilities and limitations for each are listed below.

All platforms will be chronographed using .3g BBs.

In the case of HPA platforms, .3g BBs will be used unless you are using a higher weight
BB – you will be chronographed using your ammo.
Pistols, Shotguns, Assault Rifles (M4, AK, etc): 1.5 Joules No minimum engagement
distance, SEMI ONLY (Binary triggers are not permitted)
400fps w/.20g, 328fps w/.30g
MGs (M249 SAW, RPKs, Krytac LMG, NOT M4s with box mags: 1.5 Joules
** FULL AUTO ALLOWED **
20 foot minimum engagement distance – cannot shoot indoors and must break the
plane of a window on the first floor of any building,
RPS (rounds per second) cap of 35
400fps w/.20g, 328fps w/.30g

DMR/Sniper Rifles: 1.87 Joules Minimum engagement distance 75ft and SEMI-AUTO
ONLY -cannot shoot indoors and must break the plane of a window on the first floor of
any building,
** BASE I Safety Certification will be provided at our events for those that wish to use
Bolt Action/DMR platforms **
450fps w/0.20g, 366fps w/0.30g
** DMRs must be mechanically semi locked

SMG's (MP5, MP7, UMP, KRISS Vector, Thompson, Uzi, any replica that shoots a
pistol caliber round): 1.0 Joules
** FULL AUTO ALLOWED INCLUDING INDOORS AT THIS JOULE LIMIT **
RPS (rounds per second) cap of 25
No minimum engagement distance
328fps w/.20g, 268fps w/.30g
** SMGs that chrono above 1J will be allowed under the standard semi only rule set.
** AA12 shotguns are not considered SMGs and will be restricted to Semi only at all
Times

Any weapons that do not chronograph below safety limits will not be allowed on the
field! NO EXCEPTIONS!

VELOCITY REDUCERS ARE NOT ALLOWED TO BE USED TO BRING YOUR
WEAPON UNDER THE FPS LIMITS!
If you are caught tampering with the FPS after you have chrono'd and have not re-
chronoed your gun, YOU WILL BE EJECTED FROM THE EVENT!
All guns will be chrono'd by our staff prior to game start and randomly throughout the
Event.

Hand to Hand: NO PHYSICAL CONTACT OR HAND TO HAND COMBAT WILL BE
ALLOWED. This includes touch kills and knife kills.

Violation of this rule will result in immediate ejection.

Ammo: We recommend Biodegradable BBs however it is not a requirement.

Magazine Limitations:
Realcaps: accepted for all classes of weapon / can reload in field
Midcaps: accepted for all classes of weapon, and are recommended / can reload in field
Box Magazines: must reload fresh box mags at CPs, spare box mags can be carried without
limit and can be used to reload in field.
Assault rifles and SMGs with box magazines are not allowed to reload in field and must
return to their spawn areas to do so.
High Cap Magazines: allowed, but must be ejected each time they are to be wound.
You are not allowed to walk around mag tickling throughout this event – you are to
eject, wind then reinsert the magazine (to simulate a reload) … Cannot reload in field,
must return to spawn area to reload them.

Hit Rule: If you are hit anywhere on your person or gear you are out. – Friendly fire
counts. – All Hits count.

Airsoft is a game of honor. CALL YOUR OWN HITS. Do not call opposing team players
out. If you believe the hits on that player are not being called please inform game staff
and they will look into it. Players caught cheating will get one warning and after that they
will be ejected from the game.

After you are hit you will follow the event specific dead/medic rules.

Grenades: Only grenades that expel BBs will count for grenade kills. Inside of a building
if used inside of a small room – everyone in the room will be killed. If used in a large
open space (like the gym, warehouse, outside and hallways) BBs must strike a player to
count. In the case of Grenades ricochets count since they simulate shrapnel.

Noise distraction devices do not count as a grenade; they are simply a distraction
device. EG Mk5 Thunderflash grenades are permitted – use them sparingly indoors – no more than one can be thrown into a room at a time. Taped together MK5s are not permitted.

No Home Made Pyro/Smoke or Grenade will be allowed, this includes the use of "road flares" or fireworks.

Master Mike shells will be allowed to be used.
40 Mike shells cannot be used.
Thunder Bs should not be filled with BBs as this was not their initial design, they are
primarily a sound distraction device. There are burst grenades and tornadoes that have
been designed to expel BBs, these will be allowed